Garage door cable Redondo Beach
Three Beaches Garage Doors of Redondo Beach can fix any broken garage door near Redondo Beach, Hermosa Beach, Manhattan Beach and the area today. We repair 95% of garage door issues on the first visit, since we carry the parts to complete the repair on the spot with us. One of the problems that we are dealing with, nearly every day while servicing garage doors in Los Angeles County is a snapped garage door cable.
The impact of a snapped garage door cable over the door is a door that can't be opened, closed, used or even unbalanced, the symptoms are almost identical to the symptoms of a broken garage door spring. The metal wires, which are part of the garage door mechanism, is what connect the spring system and the overhead door, and since without the cables the tension of the spring get lost, and since the garage door wires carry the weight of the garage door; if the cable break, the door shouldn't be operated until a new cable will be supplied and installed. When the metal cable snapped, it result with garage door that should not be used, since the door is out of balance. Just as if the garage spring breaks, when the wire snap, the door is not being supported on one side and in many cases the door is not safe for use anymore.
Please pay attention: Sometime the door's wire snap, but the door still open up, even if it is not as smooth as it used to. One might mistakenly assume that he can go on and use the door like that, but that will be a dangerous mistake. As we just explained, the entire weight of the door will be on the cable which did not snap, and it can easily break as well, resulting a dangerous situation of a heavy overhead door which connected to nothing to hold it from crushing into the floor. And one more thing: Using an automated garage door with a defective mechanism can result with a burned garage opener. If you know motor driven overhead doors, you know that what lift the door is actually the spring system and not the motor.
The best thing for you to do will be to get in touch with a local garage door company in Los Angeles, to come and fix the garage door for you by replacing the snapped cable.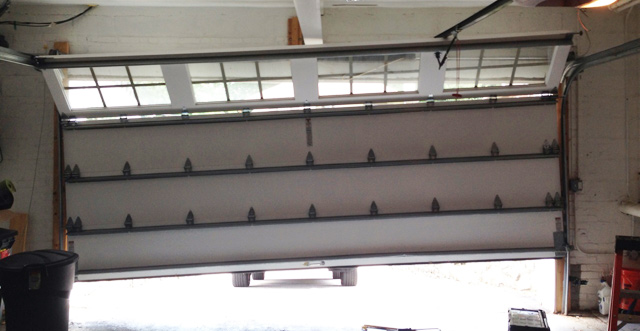 What is the reason that the metal cable snapped?
Many garage owners who discover that one (Or both) cables snapped wonder what the reason that the garage door metal cable snapped is. And it is impossible to give one answer, since there are many possible reasons that can lead to a snapped cable. We would like to present few reasons, but again, this is just a partial list. It might be garage door near Hermosa Beach, or broken garage door in Manhattan Beach CA, the reasons that lead to a snapped garage cable are many.
Reasons why the garage metal wire snapped:
The garage door metal cable was used to many times, and wasn't replaced for many years. Like other parts of garage doors, such as the springs or the hinges, or the rollers, the cables can break after different amount of years, and it depend on many variables.

The garage door wasn't maintained for a long period of time, or wasn't maintain as often as required and as every garage door in Redondo Beach should, like every garage door in Redondo Beach should be.

The garage door itself, the mechanism, or the metal cables weren't installed properly, and over time the metal cable snapped.

The metal cable was rubbing constantly and slowly split open it completely broke.

The metal cable that was installed is from poor quality, and it is not as strong and resistible as the high quality steel cables are.
What to do when the garage metal cable snap?
In most cases of a broken garage door cable, the cable snap when the garage door is closed (Down position), or while the door is movement. The reason that the cable snap when the door is close is usually since the pressure level on the cables is the highest when the garage door is closed. When the metal cable snap, the door might seem out of balance, or it can be impossible for you to open the door. Trying to force the door to work, or repeatedly trying to make the door wok can only lead to a greater damage, and can even end with injuries. The best thing for you to do will be to stop using the door, let other people who might try to use the door know that the door is broken, and call a local garage door expert who will come and replace the broken cable.
Where can I purchase new cable near Redondo?
When shopping for garage door metal cable, or any other garage door component, you must realize that there are several different types of garage doors, and there are several different components. The metal cable that will be the right metal cable for a single home garage door in Redondo Beach CA, might not be the perfect metal cable for a commercial garage door. The same goes for springs, tracks, hinges, rollers, panels, etc. Two springs, which are not the same, might look identical to you, since you did not see enough types of springs and garage doors, and you might mistakenly consider 2 different springs as the same set of springs. If you decided to buy a new metal cable, and replace the snapped metal cable by do it yourself garage door repairs, make sure that you are getting the right component. If you are not sure, hire a local garage door company near Redondo Beach who have the ability to replace broken cable.
How to replace garage door metal cable?
In case you are paining to replace the broken metal cable by do it yourself, and not to use a qualified garage door technician, who is experienced and qualified to service overhead garage doors in Redondo Beach, there are few things you need to know:
Replacing broken metal cable can be a complexed task. There are some home garage door repairs that can be perfumed by do-it-yourself, and there are some repairs which should be perfumed by a qualified tach. And replacing a broken cable come someplace in the middle. It can be too complicated task for a handyman, that fixing garage doors is not experienced in garage doors repairs, and it might be relatively easy task. What important is to never violate any safety law, and to never touch or replace a part that you are not fully sure about. If any question rise, call a local company who can come and do the job for you.
Do you sell garage door cables?
There are few garage doors suppliers in Redondo Beach. Some offer components, and some offer the part and the repair service. Three Beaches Garage Doors do not sell garage door components anymore. In the past, Three Beaches Garage Doors used to sell garage door parts in Redondo, but too many cases when the buyer who purchased the part couldn't complete the repair by himself due to lack of knowledge, made us stop selling parts.
To find the part is not the tough part. Today you can search online for garage door store, and you will find many garage door stores who offer all kinds of parts, and who also offer delivery. Yes, it might take some time for the part to arrive, but that is not really the issue. The issue is the fact that you might it much more difficult than it appear to replace the broken part. There are different garage doors, and they require different parts but also different methods of repairs. And if you know someone who was able to repair his broken garage door in Manhattan Beach California, it doesn't mean that he can fix broken garage door in Hermosa Beach.
Garage Metal cable repair Redondo Beach
Three Beaches Garage Doors of Redondo Beach repair all kinds of overhead doors and gates near Redondo Beach. We carry metal cables for all types of garage door that can be found in Redondo Beach CA, and we can complete any garage metal cable repair/replacement on the spot. We can replace snapped metal cable for commercial garage doors, or home garage doors in Torrance CA. If you are looking for a local garage door company who service Torrance area, but not only, we welcome you to get in touch with us today for same day garage door repair service. You might need commercial overhead door repair in Redondo Beach, or home garage door repair near Hermosa Beach, 3 Beaches Garage Doors can be there for you today.
For Garage Door Cable repairs near Redondo Beach, Hermosa Beach & Manhattan Beach CA
Call Now: 310-461-8750