Garage Doors Maintenance
We offer same day overhead door service in Redondo Beach. If there was one tip we could give our customers, it will be to perform a garage door maintenance and tune-up at least twice a year. Whether you choose to perform the maintenance by yourself, or if you prefer to contact someone who repair garage door in Redondo Beach, we welcome you to contact us today.
The need for maintenance
Many people tend to ignore the need of their garage door for a yearly tune up. The most common answer we hear over and over we suggest to perform a garage door maintenance, "I see no reason to fix something which is working in a perfect way". We understand that the instinct tell us to avoid spending money for something which isn't a necessity. BUT, if you look at it in the long run, you will probably get to the right conclusion that this is not a waste, but more like an investment that will prove itself when you garage door will operate perfectly for many more years.
Garage door tune up
No one will ignore the need of their car for inspection and tune up. The same goes to your garage door, which, if you will think about it, is the largest moving object in your house. The garage door mechanism include many moving parts that a basic maintenance improve the way they move, and preserve them. A professional garage door tune up should include a safety check, and tune for some parts such as the garage door spring system and for the garage door opener.
The maintenance process
The maintenance process include few parts, some of them need to get more attention than the others, depending on the condition of your garage door and on the cycle of opening and closing the door every day.
A Safety check: part of the maintenance is to test the safety reverse system (automated garage door) to make sure that the door is safe for use. If you own an automated garage door, it is a federal law that it should include a safety feature. The most common safety feature is the safety sensors. Once again, this is not an option, whether it is a garage door in Hermosa Beach, an overhead garage door in Redondo Beach, or anywhere else, your automated garage door must include a safety feature.
Lubrication:  Some parts of the overhead door need to be lubricated (including dive train and sprockets). Besides improving the movement of the parts, the lubrication also preserve the parts, and will improve the way the door operate.
Inspection: Visually inspect the overhead door, to make sure it is balanced, whole, and that there are no broken, damaged or lose parts. If you see something wrong, do not ignore it. Not only that the problem will get worst, until the door will completely stop work, but it may even increase to a point that can put you in risk, and the door may even fell of the tracks and hurt people or objects near the door.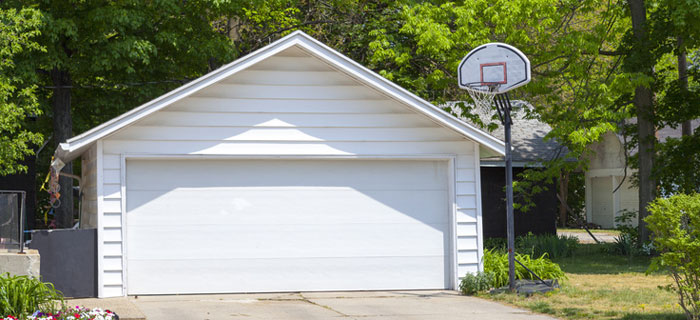 Garage door tune up and safety
The overhead door we own serve us every day and sometime few times during the day. Let's assume that you are using your overhead garage door only 2 times a day. Which mean you open and close it 4 times a day (2 times x open and 2 times x close). This number does not seem like a lot right? Now if you think about it, you are using your garage door around 1460 times a year. And this number makes you wonder if you shouldn't of neglect the need for maintenance. Well if you are reading those lines, you probably did.
But before you start the maintenance process, there are few safety rules that you should follow, and they work for every garage door, from commercial garage door in Huntington Station, to garage door repair in Hermosa Beach, those rules must be followed because you should never play with safety.
Make sure that everybody aware to the fact that you are about to perform the maintenance. Disconnect and unplug the garage door opener.
Wear glasses, gloves, and clothes which are right for the job.
Use the right tools. Do not improvise! The only safe tools to use when adding or lowering tension from torsion spring are torsion sticks.
Make sure you understand the mechanism of the garage door, and avoid touching parts that you are not sure about.
Make sure you planned the maintenance process completely before starting.
Do it yourself garage door maintenance
We, at Three Beaches Garage Doors, believe that there some garage door services that can be performed in a "do it yourself" way. But not everything is. When you perform a search on Youtube, looking for a do-it-yourself garage door repair, you often find Videos that explain almost everything, and that make it seem such an easy thing to replace a broken torsion spring. But what they do not tell you in the Video, is the fact that every garage door is standing by itself, and the repair, and the way to repair that worked for one garage door may not work for another garage door or your garage door for that matter.
Three Beaches Garage Doors Service
We offer same day garage door services in Hermosa Beach, Redondo Beach and Manhattan Beach California. Whether you need a garage door maintenance service, a garage door repair in Woodland Hills, or a new garage door, we can help. With our same day service, you can sit back and relax, knowing that someone will fix your garage today.
We carry with us all the garage door parts, the tools and of course the knowledge and the experience, that give us the ability to fix every garage door on first visit, allowing you to go back to use a safe and perfectly working Overhead door.
Commercial Garage Door
As we explained earlier, every garage door need maintenance. And when it is a commercial Overhead door, the maintenance become even more crucial. A commercial Overhead door may be used few times during the day, and as such it need to be tuned more often. We offer garage door maintenance service in Redondo Beach, and we will do it today. If you are reading this article, you probably experiencing a garage door problem, and may even need some repairs. So contact us today for same day repair service.
Pay attention!!!
Every Overhead door, which is not working properly, whether the spring snapped, the door went out of track, or even if the door is moving but making strong noises which indicate that there is a problem should not be used. In most cases, the repair is very simple, and usually just include some tune up. But if you will not call us on time, and you will continue to use the door although something is wrong with it, it may lead to 2 things:
The first- ignoring the problem will lead to a bigger problem, and now beside maintenance you will also need repair. And since you did not contact us on time, the door may stop working at the worst timing.
The second – The important thing is that now that you have ignored the need for repair, you just placed yourself and the people who use the door at risk. A garage door can weight hundreds of pounds, and may lead to serious injuries and even death.
So do not ignore the problem, and contact Three Beaches Garage Doors for same day repair service.
For Garage Door Service
Call Today: 310-461-8750